Ref: http://www.cyberciti.biz/
On a Linux or Unix-like systems each user and process runs in a specific environment. An environment includes variables, settings, aliases, functions and more. Following is a very brief introduction to some useful shell environment commands, including examples of how to use each command and setup your own environment to increase productivity in the command prompt.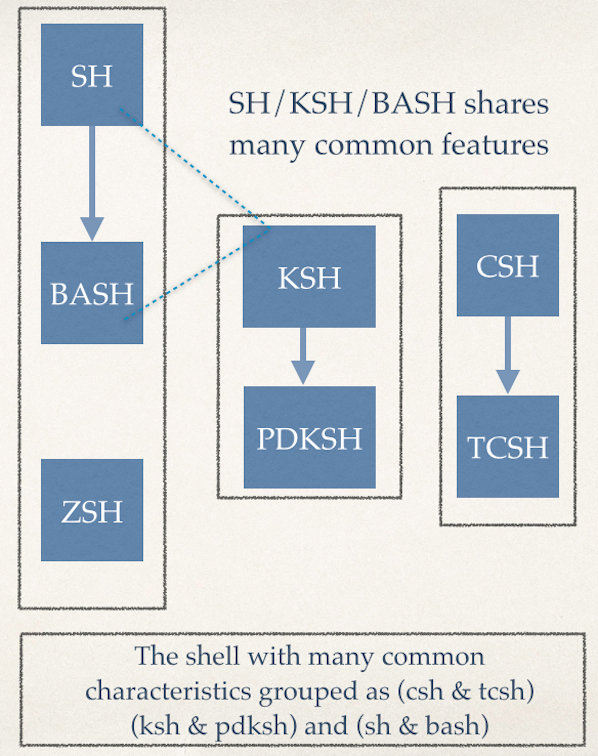 Finding out your current shell
Type any one of the following command at the Terminal app:
ps $$
ps -p $$
OR
echo "$0"
Sample outputs: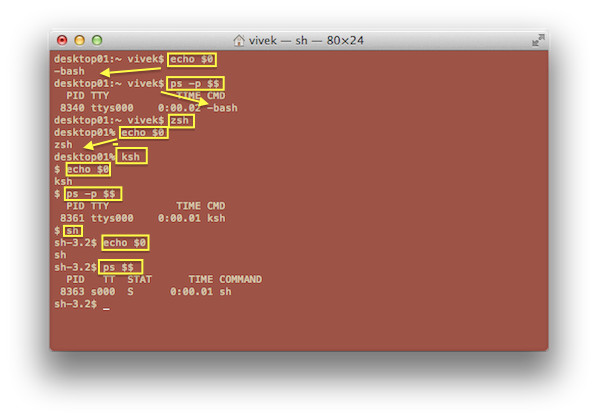 Finding out installed shells
To find out the full path for installed shell type:
type -a zsh
type -a ksh
type -a sh
type -a bash
Sample outputs: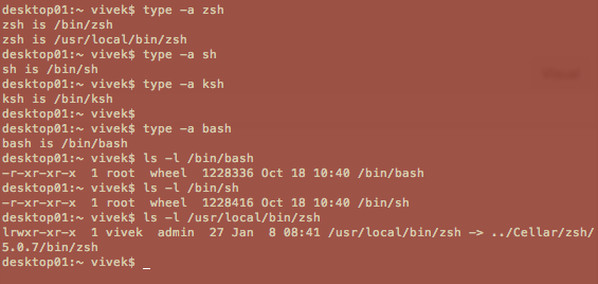 The /etc/shells file contains a list of the shells on the system. For each shell a single line should be present, consisting of the shell's path, relative to root. Type the following cat command to see shell database:
cat /etc/shells
Sample outputs:
# List of acceptable shells for chpass(1).
# Ftpd will not allow users to connect who are not using
# one of these shells.
 
/bin/bash
/bin/csh
/bin/ksh
/bin/sh
/bin/tcsh
/bin/zsh
/usr/local/bin/fish
Changing your current shell temporarily
Just type the shell name. In this example, I'm changing from bash to zsh:
zsh
You just changed your shell temporarily to zsh. Also known as subshell. To exit from subshell/temporary shell, type the following command or hit CTRL-d:
exit
Finding out subshell level/temporary shell nesting level
The $SHLVL incremented by one each time an instance of bash is started. Type the following command:
echo "$SHLVL"
Sample outputs:
Changing your current shell permanently with chsh command
Want to change your own shell from bash to zsh permanently? Try:
chsh -s /bin/zsh
Want to change the other user's shell from bash to ksh permanently? Try:
sudo chsh -s /bin/ksh userNameHere
Finding out your current environment
You need to use the
env
env | more
env | less
env | grep 'NAME'
Sample outputs:
TERM_PROGRAM=Apple_Terminal
SHELL=/bin/bash
TERM=xterm-256color
TMPDIR=/var/folders/6x/45252d6j1lqbtyy_xt62h40c0000gn/T/
Apple_PubSub_Socket_Render=/tmp/launch-djaOJg/Render
TERM_PROGRAM_VERSION=326
TERM_SESSION_ID=16F470E3-501C-498E-B315-D70E538DA825
USER=vivek
SSH_AUTH_SOCK=/tmp/launch-uQGJ2h/Listeners
__CF_USER_TEXT_ENCODING=0x1F5:0:0
PATH=/usr/bin:/bin:/usr/sbin:/sbin:/usr/local/bin:/opt/X11/bin:/usr/local/go/bin:/usr/local/sbin/modemZapp:/Users/vivek/google-cloud-sdk/bin
__CHECKFIX1436934=1
PWD=/Users/vivek
SHLVL=2
HOME=/Users/vivek
LOGNAME=vivek
LC_CTYPE=UTF-8
DISPLAY=/tmp/launch-6hNAhh/org.macosforge.xquartz:0
_=/usr/bin/env
OLDPWD=/Users/vivek
Here is a table of commonly used bash shell variables: